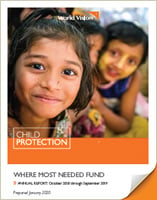 Progress Report: Fiscal Year 2019 (October 1, 2018 to September 30, 2019)

Thank you for investing in the safety and well-being of children. Your generosity is helping to create opportunities in their lives for resilience, healing, and hope.
2,451,802 people, including 1,071,933 children, have benefited from our Child Protection projects since they began. In FY19, 443,907 new people benefited. These numbers include beneficiaries from projects not featured in this report or that have already closed.