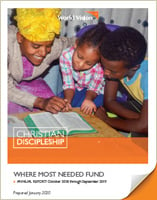 Progress Report: Fiscal Year 2019 (October 1, 2018 to September, 2019)

Thanks to your support during fiscal year 2019, World Vision expanded and deepened our work with children, youth, and their support structures— church ministry leaders, parents, and caregivers—to help every child grow in relationship with Jesus and encourage them to help others do the same.
3.5 million people benefited from ministry activities since October 2015, including 1.69 million during FY19. This includes parents/caregivers, children, and community members benefiting directly and indirectly.