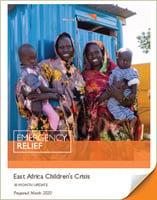 Progress Report: October 2018 to September 2019

1.97 million people have been reached with food aid and humanitarian assistance in Ethiopia and Kenya during fiscal year 2019.
Thank you again for your support to bring aid to thousands of people across East Africa! You are helping to change lives of the most vulnerable along with their families. We appreciate your partnership and how through your generosity, the light of Christ is being shown to those who need it most.