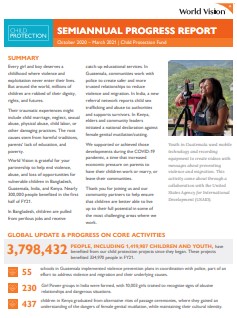 Progress Report: Fiscal Year 2021
(October 1, 2020 through March 31, 2021)
Every girl and boy deserves a childhood where violence and exploitation never enter their lives. But around the world, millions of children are robbed of their dignity, rights, and futures.
Their traumatic experiences might include child marriage, neglect, sexual abuse, physical abuse, child labor, or other damaging practices. The root causes stem from harmful traditions, parents' lack of education, and poverty.
World Vision is grateful for your partnership to help end violence, abuse, and loss of opportunities for vulnerable children in Bangladesh, Guatemala, India, and Kenya. Nearly 300,000 people benefited in the first half of FY21.