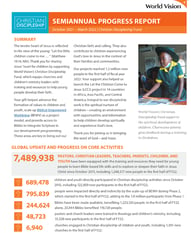 Progress Report: Fiscal Year 2022
(October 2021 through March 2022)
The tender heart of Jesus is reflected in His view of the young: "Let the little children come to me … " (Matthew 19:14, NIV). Thank you for sharing Jesus' heart for children by supporting World Vision's Christian Discipleship Fund, which equips churches and
children's ministry leaders with training and resources to help young people develop their faith.
Your gift helped advance the formation of values in children and youth, scale up Biblical Empowered Worldview (BEWV) as a project model, and provide access to Bibles to integrate Scripture in our development programming.