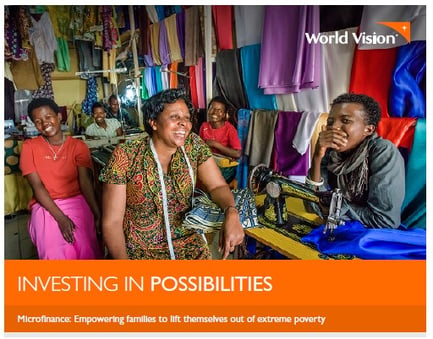 Microfinance empowers families to lift themselves out of extreme poverty.
In the fight to end extreme poverty, few tools are as powerful and durable as microfinance. Of those living in extreme poverty, 80 percent live in rural areas, and 65 percent are smallholder farmers. With few employment opportunities besides some seasonal work that separates families, people create their own jobs through small farms and businesses.
But most don't have enough capital to get their businesses off the ground or sustain growth. Without money to invest in seeds or other raw materials in bulk, or processing equipment, their farms and businesses survive—but don't thrive.
Microfinance addresses this gap by bringing financial services to people who otherwise wouldn't be able to get them due to their remote location or low income. Microfinance institutions offer small loans, empowering people to increase their productivity and income and position their businesses for greater growth. They can also offer insurance to help businesses reduce risks, as well as savings accounts so families can safely hold money for large expenses like medical bills.