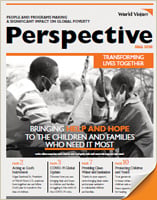 Read about your impact as a World Vision donor in this latest edition of the Perspective newsletter.

Inside, you will
Discover how your giving is helping children and families impacted by
COVID-19, bringing clean water to communities, keeping vulnerable
children safe, and so much more!
Explore how together we can follow God's plan to end extreme poverty.