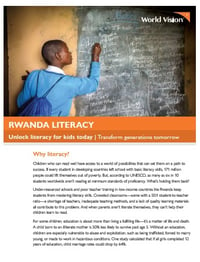 Children who can read well have access to a world of possibilities that can set them on a path to success. If every student in developing countries left school with basic literacy skills, 171 million people could lift themselves out of poverty. But, according to UNESCO, as many as six in 10 students worldwide aren't reading at minimum standards of proficiency. What's holding them back?
Under-resourced schools and poor teacher training in low-income countries like Rwanda keep students from mastering literacy skills. Crowded classrooms—some with a 50:1 student-to-teacher ratio—a shortage of teachers, inadequate teaching methods, and a lack of quality learning materials all contribute to this problem. And when parents aren't literate themselves, they can't help their children learn to read.
For some children, education is about more than living a fulfilling life—it's a matter of life and death. A child born to an illiterate mother is 50% less likely to survive past age 5. Without an education, children are especially vulnerable to abuse and exploitation, such as being trafficked, forced to marry young, or made to work in hazardous conditions. One study calculated that if all girls completed 12 years of education, child marriage rates could drop by 64%.