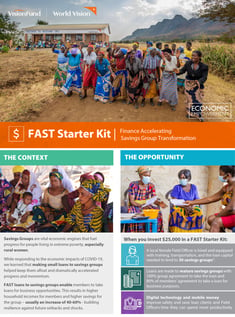 Savings Groups are vital economic engines that fuel progress for people living in extreme poverty, especially rural women.
While responding to the economic impacts of COVID-19, we learned that making small loans to savings groups helped keep them afloat and dramatically accelerated progress and momentum.
FAST loans to savings groups enable members to take loans for business opportunities. This results in higher household incomes for members and higher savings for the group – usually an increase of 40-60% - building resilience against future setbacks and shocks.