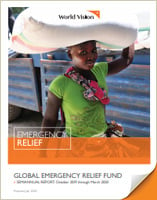 Progress Report: Fiscal Year 2020 (October 1, 2019 to March 31, 2020)

In 2020, COVID-19 has been the crisis on everyone's mind. Yet while the global community continues to grapple with this virus, many countries continue to suffer from pre-existing disasters and humanitarian emergencies. Drought, floods, civil conflict, food shortages—they don't pause simply because a pandemic has
surfaced. COVID-19 has complicated World Vision's response efforts and limited our access and mobility, but our dedication to address ongoing crises has not stopped.
In the first six months of FY20, World Vision responded to 51 disasters and humanitarian emergencies in 59 countries and provided humanitarian aid to more than 19 million people.