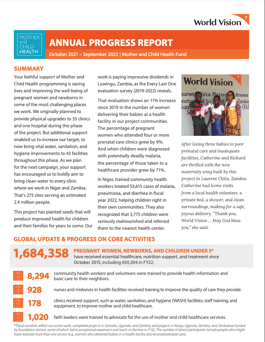 Progress Report: Fiscal Year 2022
(October 2021 through September 2022)
Your faithful support of Mother and Child Health programming is saving lives and improving the well-being of pregnant women and newborns in some of the most challenging places we work. We originally planned to provide physical upgrades to 33 clinics and one hospital during this phase of the project. But additional support enabled us to increase our target, to now bring vital water, sanitation, and hygiene improvements to 43 facilities throughout this phase. As we plan for the next campaign, your support has encouraged us to boldly aim to bring clean water to every clinic where we work in Niger and Zambia. That's 275 sites serving an estimated 2.4 million people.