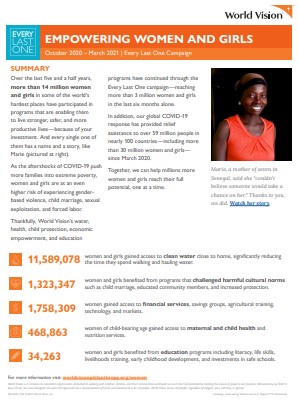 Progress Report: Fiscal Year 2021
(October 1, 2020 through March 31, 2021)
Over the last five and a half years, more than 14 million women and girls in some of the world's hardest places have participated in programs that are enabling them to live stronger, safer, and more productive lives—because of your investment.
As the aftershocks of COVID-19 push more families into extreme poverty, women and girls are at an even higher risk of experiencing gender-based violence, child marriage, sexual exploitation, and forced labor.
Together, we can help millions more women and girls reach their full potential, one at a time.