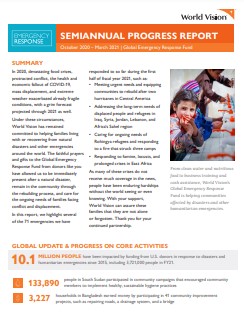 Progress Report: Fiscal Year 2021
In 2020, devastating food crises, protracted conflict, the health and economic fallout of COVID-19, mass displacement and extreme weather exacerbated already fragile conditions, with a grim forecast project through 2021 as well.
Under these circumstances, World Vision has remained committed to helping families living with or recovering from natural disasters and other emergencies around the world. The faithful prayers and gifts to the Global Emergency Response Fund from donors like you have allowed us to be immediately present after a natural disaster, remain in the community through the rebuilding process, and care for the ongoing needs of families facing conflict and displacement.