Dan and Aimee have continued to serve the most vulnerable in their hour of greatest need. They now allocate a large portion of their family's charitable investment portfolio to World Vision's work in emergency relief and fragile contexts — where extreme poverty stubbornly resists solutions, but also where they recognize a dollar can have a "radical impact."
Dan explained, "It's riskier giving money to places like Syria or South Sudan, but there is so much suffering and so little help. I think of it as a high-risk, high-reward investment, but a short-term focus. It's a very different mentality than I started off with WASH (water, sanitation, and hygiene)."
With his background in the financial industry, Dan equates work in emergency relief and fragile states as credit card debt the world needs to pay off and community development work as the long-term investment portfolio.
"You need to pay off your credit card balance each month while building your long-term investment portfolio," Dan said. "In the last couple of years, the magnitude of short-term needs has been so startling. Every dollar you can put in — it's going to alleviate a tremendous amount of suffering today and help prevent a situation that's already really bad from spiraling into something much, much worse."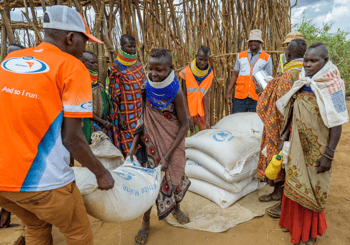 In the past decade, the number of people affected by emergencies has almost doubled, and this number is expected to keep rising. World Vision is uniquely situated to respond to any disaster or humanitarian emergency — anywhere in the world — from immediate life-saving supplies when disaster strikes to long-term recovery work so people can rebuild their lives.
"You can give to the amateurs, or you can give to the people that have been really perfecting this for the last [nearly] 70 years," Dan said. "World Vision is a very impressive team that takes a scientific approach."
In 2017 alone, World Vision staff around the world, 95 percent of whom work in their home region, responded to 170 emergencies and assisted approximately 13.8 million people in 56 countries.
"From the crisis relief standpoint," Dan said, "it makes a really big difference to me that when something goes wrong somewhere in the world, whether it's a hurricane or war or famine, it seems like a lot of organizations fly in and try to help, but World Vision is usually already there, and they've already been there for decades."