Dear Friends,
When it comes to supporting charitable enterprises, I tell people that I've never made a single donation, but I've made lots of investments. Investors want to see a return. Stories can be moving and put a personal face on need, but data is critical. Good intentions aren't enough. I want efficacy. It is because of the unique product that World Vision offers that Anne and I overweight our investments in this organization.
World Vision is holistic.
They offer a multi-faceted approach to reducing poverty and its brutal effects on children, families, and entire communities. As a result, they're more effective than most other organizations working in the field, which only work on one or two causes and cannot address the complex puzzle of poverty.
They're collaborative.
Some organizations aren't interested in partnerships—they tend to dictate to the communities they've come to help. In contrast, when World Vision comes into a new place, they work alongside community members to bring about sustainable, long-lasting change. This inclusive approach sets World Vision apart.
Few other organizations have the history, experience, or sheer size of World Vision.
They're big and their roots run deep. All around the world they have access, reliability, and credibility. They're a trusted partner with local communities, national governments, and global partners. An example of this is World Vision's work in the most fragile of places, like Syria, where other NGOs have a hard time going. World Vision can be transformative there because they've been transforming for nearly 70 years, committed to learning and growing and adapting. I'm living proof that being big and old is not necessarily a good thing, but World Vision uses those two attributes to tremendous advantage throughout the world.
Most importantly, World Vision is Word-of-God–empowered.
They're reliant upon God's word, employing a biblically empowered worldview. God calls us to be good stewards—to take personal responsibility for our assets, talents, family, and community. If you care about serving the poor in the name of Jesus and you want to see comprehensive work crafted on biblical principles, World Vision may be your only alternative.
T
here are opportunities for all types of investors, no matter your passion or risk tolerance.
World Vision offers low-risk "blue chip" programs like drilling wells for more cautious donors, and venture capital investments like THRIVE for the more entrepreneurial. There are also options for return periods—from flash returns like water and emergency relief to long-term projects in economic empowerment and education, where results build over time for powerful and lasting change.
World Vision is also unique because of its significant absorption capacity.
They make it easy for major donors to make the larger contributions that stewardship often demands of those of us who have been blessed with great means. Few organizations outside of universities or hospitals are equipped to accept and utilize substantial donations effectively. No other operating organization focused on eliminating poverty has the absorption capacity of World Vision.
What's holding you back?
Fear of Better Options (FOBO)? Some investors may be waiting to to give, thinking they might discover a more efficient mechanism our there for the work World Vision is doing. It's conceivable that you might find one, down the line. But right now, there's a child dying every five seconds—most often from causes we can help prevent. The good news is that God is not sitting still. He is doing deals right now that you should want to be part of. But keep in mind, once a well has been drilled or a program has been launched, that IPO is closed. Rather than FOBO, you ought to be suffering from FOMO—Fear of Missing Out.
World Vision belongs in every charitable portfolio.
We can't ignore Jesus' example or the incredible work being done by Bill and Melinda Gates—poverty reduction must be a high priority for all of us and good stewardship demands significant investments. The weighting in different portfolios will depend on each investor's passions, time frame, and capacity. But the simple truth is this: donors—especially high net worth individuals—need to strongly consider graduating to World Vision. My hope is that right now, when you look at where you are in your lives, and when you look at eternity, you'll discern the right place for World Vision in your investment portfolio.
Sincerely,
David Grizzle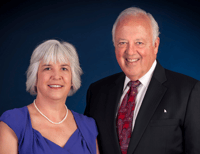 David is an aviation consultant and the retired Chief Operating Officer for the Federal Aviation Administration. His previous roles include serving as the FAA's chief counsel and as the senior vice president of customer experience for Continental Airlines. In addition, he also spent a term working for the U.S. Department of State in Kabul, Afghanistan, as attaché, senior advisor, and coordinator for transportation and infrastructure. He is a graduate of Harvard College and Harvard Law School. David and his wife, Anne, are part of World Vision's National Leadership Council. They live in Washington, D.C. and have three sons and seven grandchildren.