The call
In the last 20 years, the number of children dying from things
they shouldn't — from hunger and poverty and disease —
has gone from over 30,000 a day to just over 16,000.
Extreme poverty has dropped dramatically and is on the run.
But this next part will be harder than the first.
That's why everyone must renew their efforts and fight for every single child.
Every last one. Never stopping until it's finished.
But it will take every last one of us to make it so.
That means finding the courage to invite others to show the love of
Jesus to a hurting world. Because Jesus said His followers should be
known for their love. That they should take care of the orphan and
the widow ... the least, the lost, the last.
Together, we seek to do exactly that.
To put our faith into play.
To invite and lead others on this journey to help end extreme poverty.
To chase it down as it retreats to the hard places of the world. To the margins.
To the last places on earth anyone wants to go.
But we will go there, together.
This second half may be harder. But we are stronger ... with you.
This is your moment. This is a chance to show the world what you believe in.
Where what you say shows up in what you do.
Together, let's call on every last Christian, American, world government, and NGO.
To put the last, first. To help bring fullness of life to children in need.
Are you ready to stand with us all?
Are you ready to help free every last child from extreme poverty?
Hear from other partners who have answered the call
A message from the President
I am often struck by the fragility of life, particularly how few options there are for children growing up in poverty.
But that's precisely what makes me so proud at this moment in time to lead World Vision—an organization that works every day in the hardest places to bring hope and opportunities to children the world has forgotten.
Monumental progress was made with our last campaign, but to finish what's been started — to go where the needs are most desperate — we must renew our efforts once more to fight for every child. Our generous partners have joined us in unprecedented ways. And now, we stand on the brink of something no other generation has dared to imagine—the elimination of extreme poverty from the face of the earth.
Together, we've made remarkable progress. We're reaching one new person with clean water every 10 seconds. Over the last five years, 89 percent of the severely malnourished children we treated made a full recovery. And every 60 seconds, a family receives the tools to overcome poverty.
"We stand on the brink of something no other generation has dared to imagine—the elimination of extreme poverty from the face of the earth."
We've made historic strides, and the momentum continues to build. But there are still more children in need, and more laps to run. We must press on to cross the finish line for every child.
Thankfully, God has given us more than what we need to be His hands and feet. Unique gifts and talents. Compassionate, dedicated hearts. Brilliant minds. His Holy Spirit. As Paul says in Ephesians 2:10 (NIV), we are "God's handiwork, created in Christ Jesus to do good works." We are perfectly equipped to bring life-changing hope to His precious children, everywhere.
We know what remains to be done. We have everything in place. Together, let's open the door for every child to experience the full life God intended for them—every last one.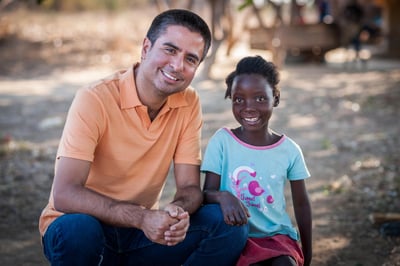 Edgar Sandoval Sr.
President, World Vision U.S.