Our Approach
We believe that we are called to be the hands and feet of Jesus. Thanks to 70 years of experience, and carefully cultivated relationships with governments, local authorities and faith leaders in the nearly 100 countries we work - we are uniquely equipped to respond to global crises. We've supported the most vulnerable
people in some of the world's darkest times, through disease, natural disasters, war, and other human suffering. This type of work is in our DNA. It's what we do.
World Vision has extensive experience in supporting social and behavioral change in the face of global disease outbreaks, including polio, Zika, H5N1, and the Ebola crisis. Our responses to past epidemics have resulted in real breakthroughs in reducing the spread of disease, so we have what it takes to engage communities in addressing the threat of COVID-19. Our partnership with local faith and community leaders is critical as we join hands to strengthen preparedness, behavior change and protection of children and other vulnerable members of the community.
Our response in the U.S.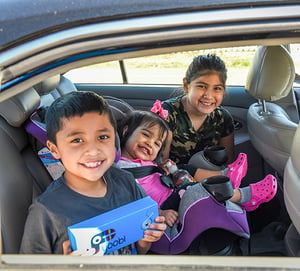 For the first time in our 70-year history, World Vision has declared a Global Health Emergency Response. And that includes responding right here in the United States where we have built a supply chain and logistics network that serves more than 4 million people annually. We operate in 20 U.S. locations and warehouses strategically placed across the country, from Seattle to Chicago to New York, enabling us to respond effectively during times like these. We partner with local churches, schools, and nonprofits to distribute essential supplies to the most vulnerable children and families.
In response to the COVID-19 pandemic, World Vision is working in 13 strategic locations to provide 650,000 people with food, protective items like hand sanitizer and disinfectant wipes, paper products, school supplies and other essentials they desperately need through a Family Emergency Kit. The nutritious food provided in the Kit can feed a family of five for one week.
A thoughtful and rapid approach in 3 steps:
World Vision procures food and other essential items through our corporate partners, grants or purchases and creates Family Emergency Kits.
We engage with local partner churches to serve as safe and secure points of distribution.
We then connect school districts – who identify the most vulnerable children and families in their communities - with local churches to serve the selected families.
In addition to the Family Emergency Kits, World Vision's programs are protecting children and families by providing critical supplies to medical centers with Personal Protective Equipment including face masks, gloves and hand sanitizer.
Our response in other countries that are hardest hit by the pandemic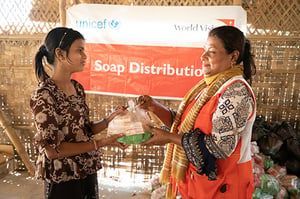 The scale and spread of COVID-19 is a direct threat to countries where World Vision has programs, including nations with weak health systems, and especially where children and families are surviving as displaced persons or refugees. Secondary effects of the crisis on children living on the brink could be devastating as family and community structures, education, health services, and livelihoods are shut down, forcing millions more into poverty and further vulnerability.
With feet on the ground around the globe and strategically located supply centers, World Vision is in a strong position to respond quickly and efficiently. Our expanding response will focus on basic, high-impact interventions in 17 priority countries: Afghanistan, Bangladesh, Brazil, China, Haiti, Democratic Republic of Congo, India, Indonesia, Iraq, Kenya, Lebanon, Mongolia, Philippines, Senegal, South Africa, Syria, and Thailand.
Activities planned to-date include:
Providing cash and voucher programs, food distributions, care packs and educational materials to help people forced to live in isolation during the pandemic.
Providing families with supplies like hand sanitizer and soap, plus masks if family members are sick with COVID. Hand-washing stations will be set up and maintained at communal gathering spots.
Promoting preventive tactics to slow and stop the spread of COVID-19, focusing on messages regarding handwashing, cough hygiene (coughing into one's elbow or a tissue), and social isolation, or staying away from crowds.
Supporting health facilities with protective equipment and supplies so they can safely treat COVID-19 and continue key child health and nutrition services.
Providing additional training to health volunteers, establishing safe quarantine/isolation spaces and providing transportation for carrying patients and medical specimens.
How you can be involved
Prayer
Our work is only possible with generous donors like you. We are so thankful for you and the faithful family of believers who have supported this ministry over the years. Our staff has been greatly encouraged by your prayers and inquiries into our own well-being. We are truly in this crisis together, every one of us: you, World Vision staff, and the children and families we serve around the world. We rest in the knowledge that God is all-powerful and God is with us, and we pray with confidence.
Whoever dwells in the shelter of the Most High will rest in the shadow of the Almighty. … He will cover you with
his feathers, and under his wings you will find refuge; his faithfulness will be your shield and rampart.
Psalm 91:1,4 (NIV)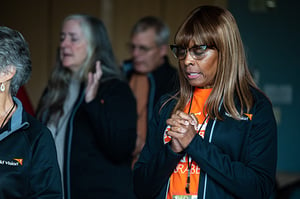 Let's come together in prayer for:
those who are sick and quarantined
families who have lost loved ones
Government leaders as they make tough decisions to prevent the further spread of COVID-19
the safety of front-line health care workers.
our neighborhoods to stay strong and loving
the continued transformation of children and communities living in poverty
God's perfect love to cast out fear
Text "pray" to 44888 to receive more ways to pray. You'll receive a weekly text with a prayer prompt going forward.
We would also like to pray for you. Please fill out the form below to send in your prayer request and our staff will join you in prayer.