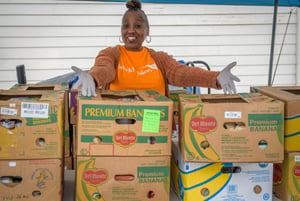 As the world navigates new and unexpected challenges from the COVID-19 pandemic, already-vulnerable families across the United States are facing an unprecedented crisis. Many are losing both income and school lunches that helped their children stay fed. World Vision has partnerships with churches and school districts across the U.S. to identify these families and we're already responding.
World Vision is providing Family Emergency Kits – they include a week's worth of food for a family of five, hygiene and protective items, educational supplies and resources for kids, and more. These kits bring hope and show the love of Jesus to kids and families in the U.S. by providing them with the essentials they need.
World Vision is working hand in hand with churches and other local organizations to meet urgent needs. Our goal is to provide 650,000 people across the nation with Family Emergency Kits. Our partnership with churches provides a local distribution point for the delivery of the kits.
New! Interactive report on the first 120 days of World Vision's COVID-19 response in the U.S.
We have 14 strategic locations across the U.S. ready to help deliver food and essentials to vulnerable families. From Seattle, to Chicago, Dallas, New York and other cities, we need generous donors who will step alongside families impacted by COVID-19 and provide them with the food and essentials they desperately need.
In addition to the Family Emergency Kits, World Vision's programs are protecting children and families by providing critical supplies to medical centers with Personal Protective Equipment including face masks, gloves and hand sanitizer.
Opportunities for you to make a difference.
Your gift of $75 can provide a Family Emergency Kit to one family, which includes things like:

Nutritious fruits and vegetables, protein, pasta, rice and cereal to feed a family of five for one week.
School supplies like color crayons, erasers, scissors, glue and more.
Hand sanitizer, disinfectant wipes, and first-aid antiseptic.
Paper products including toilet paper and paper towels.
Books, board games, and coloring books.

Your gift of $7,500 can equip a church to distribute a week's worth of food and emergency supplies to 500 people. This is one entire church distribution of 100 Family Emergency Kits.
Thank you for being the hands and feet of Jesus to the most vulnerable among us. We're so grateful for you.