Greetings!
Today is World Water Day, a day designated by the UN for the international community to focus on the importance of universal access to clean water, sanitation and hygiene. In the communities we serve, the impact of water on a woman's life is extraordinary - women and children spend more than 200 million hours collecting water every day. Imagine what happens when clean water is available - young girls can go to school, women have economic opportunities, and entire communities are changed.
Today we are celebrating the many partnerships and collaborations that enable World Vision to provide clean water to 1 new person every 10 seconds. The most important partnerships are with local communities to co-create solutions that last and so that community members are empowered to participate, own, and continue to sustain water points and healthy behaviors after we depart. We also work with a wide variety of other local partners including with government, the private sector, and other not-for-profits. You might say that it takes a village of stakeholders to lift a community out of poverty. Here's an update on some of our key partners:
Conrad N Hilton Foundation: Funding World Vision to provide water, sanitation and hygiene efforts in healthcare facilities in Mali and to reach universal water access in several districts in Ghana, Mali, and Niger.

Denver Mattress: Providing funding for World Vision's water work and building awareness of the global water crisis in more than 100 retail stores.

Golf Fore Africa: Under the leadership of Betsy King Golf Fore Africa is committed to providing access to clean water in Zambia through World Vision.

Grundfos: Committed with World Vision to reach 2 million people by 2021 with clean water access using Grundfos products and innovations.

Messiah College: Testing a remote monitoring system of water pump functioning using a sensor connected to mobile phone, solar power, and cloud technology and designing a long-lasting affordable latrine liner for households.

P&G: World Vision provided P&G Purifier of Water packets in 13 countries in FY17 so that households have clean drinking water while we work to provide more permanent water points. In addition, World Vision partnered with P&G to provide the water packets in emergencies including the drought and famine in East Africa, flooding in Sierra Leone, and the earthquake in Mexico.

Safe Water Network: Water kiosk collaboration started with World Vision in Ghana.

Sesame Workshop and Stanford University: WASH-UP! school projects launched in 10 countries with World Vision across Africa, in Honduras, and in response to the Syrian refugee crisis. The program has reached nearly 100 schools in Ghana and 152 schools in Zambia. Stanford University is evaluating the impact of the program.

United Solar Initiative: Trained World Vision staff in East and Southern Africa on solar-powered water systems and will provide additional training's in FY18.

University of North Carolina Water Institute: World Vision and UNC have a six year partnership to monitor, learn, and improve our efforts. This includes the largest ever monitoring and evaluation program of water, sanitation and hygiene program in 14 countries with results available in mid 2018.

WaterAfrica: Funded World Vision to provide water access for 16,500 Zambians in FY16 and FY17, ahead of their five-year goal of providing water to 30,000 people by 2020.

Watermill Express: Under the leadership of Lani Dolifka, Watermill Express donates 1 gallon of water in the developing world for every gallon sold at their water kiosks. This program has now donated 250 million gallons of clean water through World Vision.

Wells Bring Hope: Provided over 475 wells with a goal of 1000 wells in partnership with WV in Niger, West Africa

Wellspring for the World: Funded World Vision to provide 569 water wells towards their goal of providing 1,000 water wells by 2020.
Join us in praying for wisdom and discernment for our leaders as we continue to work to deepen our impact and reach every last one with clean water.
With gratefulness for your partnership,
The Strong Women Strong World Team
---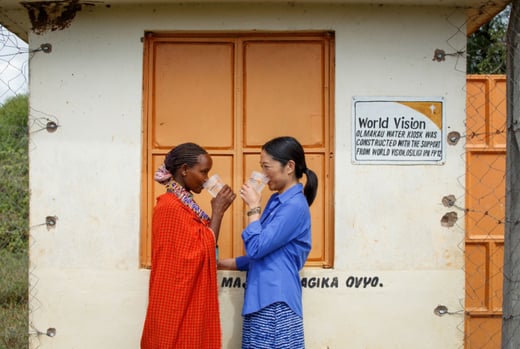 50 Million Gallons of Clean Water in the next 4 years
In an effort to raise awareness of the global water crisis and inspire action on World Water Day, World Vision has partnered with Clean Water Here. This year, Clean Water Here is launching a Photo Exhibit to capture images of global water and sanitation issues. Clean Water Here founder Lani Dolifka, who also serves as the CEO of Watermill Express unveiled the Clean Water Here 1x Global Photo Exhibition at the United Nations, with singer Pitbull, the new Clean Water Here Global Ambassador. As our partner and a donor to World Vision, Mrs. Dolifka also announced a new commitment to provide 500 million gallons of clean water in the developing world over the next four years!
---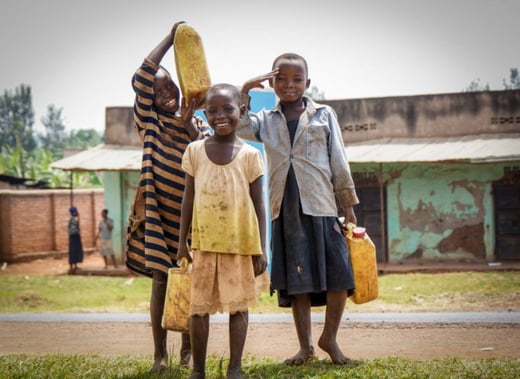 A Promise to Rwanda on World Water Day
"I can think of no greater legacy in ending extreme poverty than to help solve the global water crisis, and we'll get the job done first in Rwanda." Rich Sterns, President, World Vision US
One million people in 2,000 communities where World Vision works in Rwanda lack basic access to clean water. World Vision is committed to bringing water to every last one of them by the end of 2022.
People like Angelique Hakurinka make us believe this enormous goal can be reached.
Angelique, 33, who lives in Gashora, near Rwanda's capital, Kigali, is not one of the millions of African women who carry water for long distances each day. Instead, she helped to bring water to her community as a member of a manual well-drilling team trained and equipped by World Vision. (Where appropriate, manually-drilled wells can save 80 percent of the cost of drilling with a heavy rig.)
For Angelique, who supports three children, and for her community, partnering with World Vision for clean water has been a life-changing experience. "I thank World Vision," Angelique says. "Besides giving us water, they gave us a chance to work for ourselves."
On International Women's Day, Paul Kagame, President of Rwanda, said, "Women are a cornerstone of prosperity for society as a whole. There is an unacceptably high cost to gender inequality. It is important to act together. Not women on one side and men on the other. No one loses when women and girls experience equality and empowerment."
With the help of our donors and partners, we can meet our 2030 goal of bringing clean water to 50 million people, thus empowering millions of women and girls.
Learn more about why Rwanda is the ideal place to achieve universal coverage in the next 5 years and how you can partner with us to achieve this historic goal.
---
Engage your networks on these important issues:

- March 22: World Water Day




- April 7: World Health Day




- July 30: World Day Against Human Trafficking




- October 11: Int'l Day of the Girl




- November 25: Int'l Day for the Elimination of Violence Against Women




- December 1: World AIDS Day