Greetings!
World Vision is delighted to send you our Executive Briefing for Economic Empowerment. You are an integral part of our work to end extreme poverty by 2030, so we want to keep you updated on our progress! If you are new to our work, please take a moment to learn about our THRIVE model and how it's helping to break the cycle of poverty and sustainably improve family's education, health, food security and nutrition, and shelter.
---
Covid-19 and Its Economic Challenges – THRIVE and Recovery Lending
Why World Vision is READY for This!
I was part of the World Vision team that deployed to Asia after the gigantic tsunami of December 2004. As one of the first foreign specialists on the scene in both Thailand and Sri Lanka, I heard how the tsunami created two waves. The first created some serious local flooding. Then the sea retreated before returning as a second wave – a gigantic wall of water, which started its march of death and destruction inland.
Covid-19 is like that tsunami event. The first wave we are seeing is a health emergency. The second wave is the economic dislocation and destruction associated with locking down people and economies around the world. We are watching a "slow motion economic train wreck".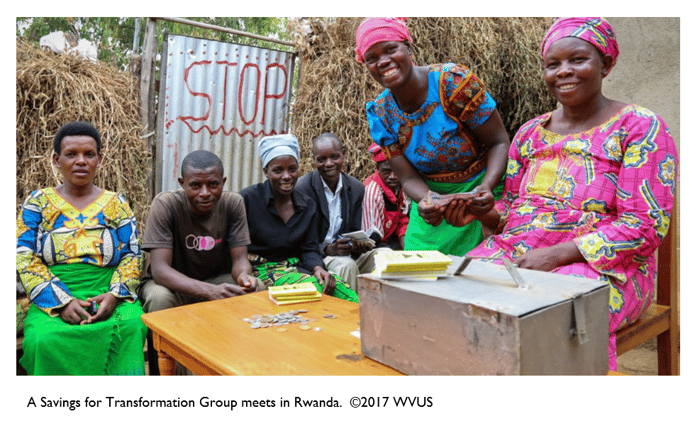 Fortunately, World Vision has never ever been better prepared for a global pandemic than we are now. We are responding domestically. We are responding internationally to the health crisis in every country in which we work, and beginning to pivot towards also addressing livelihood issues. At the same time that we respond, the work we have started through the Every Last One Campaign remains critical. WASH is getting people not only clean water to drink, but also for HYGIENE so people can wash their hands. Maternal & Child Health also has a strong focus on HYGIENE. Both THRIVE and our microfinance lending are exactly how we should be responding to the economic tsunami that we see unfolding. We need to be saving both lives and livelihoods! We are doing exactly that!

Because the entire world is experiencing Covid-19 together, we are in unique and very teachable moment. Never before have we in the richer developed world been so attuned to what is happening in the poorer developing world. So, please allow me the privilege to be your teacher for a few minutes and take you on a 2- part course on how the pandemic is affecting the poor, and why what we are doing makes so much sense. And let me thank our donors for helping us be ready. Without you, we would not have the THRIVE model. Without you we would not have a microfinance network in 28 countries and 7400 staff ready to respond. We're ready. Let's go!
Christopher Shore
---
THRIVE and Covid-19 – Needed Now, Needed For the Long-term
The Covid-19 pandemic is causing massive economic dislocation around the world, tens of millions of children are vulnerable to the secondary impacts of the Covid-19 pandemic, including the breakdown of family livelihoods.

CLICK HERE to keep reading this article on why THRIVE is perfectly suited for a world recovering economically from Covid-19.

---
Recovery Lending for Resilience
In my hometown right now our old-time diner is closed. So is the nail salon my wife likes.

CLICK HERE to read about how World Vision and VisionFund are getting ready for one of the biggest recapitalization efforts for the businesses of the poor we have ever undertaken.
---
Updates from our THRIVE Managers
All of our THRIVE Managers have provided a quick update on how Covid-19 is affecting the work in their country. Enjoy a quick visit!

THRIVE Malawi - Kondwani Chapotera

THRIVE Honduras - Cesar Zelaya

THRIVE Tanzania - Alphonce Kyariga

THRIVE Zambia - Moffat Mtonga

THRIVE Rwanda - Safari Dieudonne
---
Links and Articles Worth Checking Out

We are already seeing the impacts on the poor in terms of food supply disruptions, and according to the World Food Program the number of people facing extreme hunger could rise from 135 million in January, to 265 million by the end of the year. READ MORE HERE

The United Nations University's World Institute for Development Economics Research estimates the pandemic will cause the first rise in extreme poverty since 1998, with anywhere from 80-140 million falling into extreme poverty on the low end to 420-580 million on the high end. READ MORE HERE

THE ECONOMIST Article - For microfinance lenders, covid-19 is an existential threat. Yet, in the post-pandemic world, the world's poor will need them more than ever.
---
Upcoming Calendar Events
Join us for our May EE Donor Field Update Call at 8:00am PT/11:00am ET on May 14. We will be joined by WV Tanzania National Director Gilbert Kamanga and THRIVE Team Leader Alphonce Kyrariga. You can join directly by clicking the button below or email Kimberly Barta to be added to the ongoing invite list!
Join us for our June Empowered World View Devotion at 8:00am PT/11:00am ET on June 2. We will be joined by our WV Zambia team for this special time. You can join directly by clicking the button below!
---
Do you have specific questions about our THRIVE programming? Submit your questions by clicking the button below.
Vision Trips are currently on hold at this time. We hope they will resume before the end of the year and we will keep you posted.
---
Praises & Prayer Requests
PRAISE
Praise that 20% of the funding needed for Recovery Lending for Resilience is now received or committed
Praise that THRIVE Tanzania has reached nearly twice the people we originally targeted
REQUESTS
Pray for special openness and favor for World Vision and VisionFund as we present Recovery Lending for Resilience to colleagues at the World Bank, the Inter-American Development Bank, the Asian Development Bank, and the African Development Bank
Pray for wisdom for World Vision staff who are working to get THRIVE mid-term and final evaluations moving despite the "challenges" of lock-down orders and travel restrictions
Pray for divine appointments so that ever more people can hear how they can participate in lifting people out of extreme poverty, even during Covid-19