WORLD VISION'S STRONG WOMEN STRONG WORLD EVENT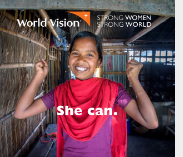 More than 250 men, women, and young people from around the globe came together for World Vision's 14th Annual Strong Women Strong World Event in New York City on November 30. They learned more about the plight of women and girls in the developing world, and what World Vision is doing about it.
In her keynote, First Lady of Rwanda, Jeannette Kagame said, "Women and girls are capable of bringing about significant change to their environment, despite obstacles that stand in the way of their advancement." If the existing impediments to women's advancement were removed from their paths, the impact of change could be more powerful."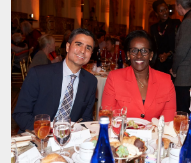 President of World Vision U.S. Edgar Sandoval shared, "At World Vision, we believe in the power of women and girls to make a stronger, better world for families, communities, and nations. But to create a world where boys and girls, men and women enjoy the same rights, freedoms, and opportunities – to make that a reality – we all need to actively challenge the beliefs and practices that devalue women and girls."
In a powerful dramatic presentation, guests heard the story of a typical girl growing up in poverty in Africa - the many barriers she faces to reaching her full potential due to a lack of equal access and opportunity. Then one by one, these barriers were knocked down as remarkable women from World Vision shared exactly what is being done to change this (pictured above)."I am a girl. I could be your daughter. I could be your sister. I could be your niece. But I am a girl born into extreme poverty in the developing world. And this is the story of my life."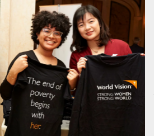 Other special guests and voices included: Dr. Debra Mesch, Women's Philanthropy Institute, Indiana UniversityLilly Family School of Philanthropy | Tracy Brunjes, radio personality/co-host of the Compassionate Achiever podcast | Patricia Heaton, Actor and World Vision Celebrity Ambassador | Lisa Jackson, Managing Partner, Imago Dei Fund | Margo Day, Vice President U.S. Education for Microsoft, retired | Kathy Treat, founder of Speranza Foundation | and Wé McDonald, solo artist, author, and equity advocate.


Follow this story on our website to see more photos from the event.
---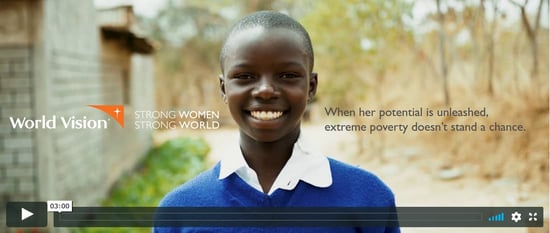 ---
GOLF FORE AFRICA'S STRONG WOMEN STRONG WORLD EVENT
"Golf Fore Africa has a huge goal, to raise $10 million for clean water projects. This luncheon helped to raise over $400,000 impacting the lives of over 8,000 people." —- Betsy King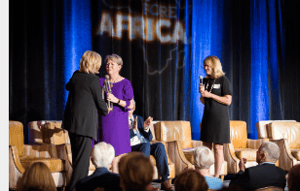 On November 8th Golf Fore Africa hosted its 6th annual Strong Women Strong World Luncheon in Scottsdale, Arizona. Not only was this Golf Fore Africa's largest event to date with over 350 attendees, but it was also their largest fundraiser ever. They raised over $400,000 for clean water projects that will directly impact women and girls.
Golf Fore Africa founders and past recipients, Debbie Quesada and Betsy King, had the honor of presenting the prestigious Strong Women Strong World Hope Award to Reneé Stearns. For the past 20 years, alongside her husband Rich Stearns, Reneé has exemplified the spirit of the Hope award through her extraordinary commitment to bringing fullness of life to women and girls around the world.
---
We wish you a safe and joyful holiday season! And if you are looking for a gift that will help girls and women, check out the World Vision Gift Catalog.