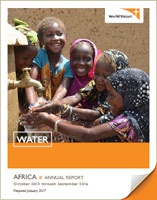 Progress Report: Fiscal Year 2016 (October 1, 2015 to September 30, 2016)
Africa
Thanks to the ongoing support of Africa Water, Sanitation, and Hygiene (WASH) donors and partners, we have reached 10.8 million people with clean water since October 2010. Through this continuing program, we are bringing the life-saving benefits of safe WASH to even more people in Africa, with the vision of reaching every person, everywhere we work by 2030.
This past year, your generosity enabled World Vision to scale up the Africa WASH program from 10 to 25 countries. Further, in-country teams are securing partners and additional funding to support their WASH programs, as shown in the spending graph at the bottom of the page.