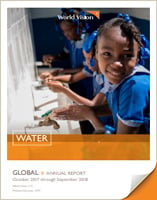 Progress Report: Fiscal Year 2018 (October 1, 2017 to September 30, 2018)

Fiscal year 2018 has been a year of tremendous impact, reaching an incredible 4 million people with clean water, 2.8 million with sanitation, and 5 million with hygiene. We continue to have an industry leading effort that is reaching one new person with clean water every 10 seconds!
We remain committed to reaching everyone, everywhere we work with clean water by 2030—an ambitious but achievable goal that means reaching 50 million people between 2015 and 2030. We thank you for being part of this journey with us and for being part of this historic effort to end the global water and sanitation crisis within our lifetimes.