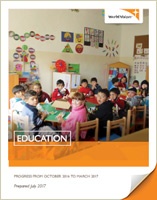 Progress Report: Fiscal Year 2017 (October 1, 2016 to March 31, 2017)

This report celebrates the implementation and progress of three new projects—Syrian Refugee Education, Nepal, and Zambia. The projects you supported focus on the following strategic areas: early childhood development, literacy and basic education, education in fragile and conflict-affected contexts, adolescent life skills and livelihoods, and safe schools.
We envision all school-age children developing literacy, math, and life skills in safe learning environments with quality instruction. Thank you for being part of these
efforts during the first half of fiscal year 2017.