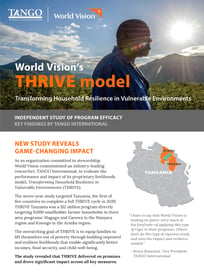 As an organization committed to stewardship, World Vision commissioned an industry-leading researcher, TANGO International, to evaluate the performance and impact of its proprietary livelihoods model, Transforming Household Resilience in Vulnerable Environments (THRIVE).
The seven-year study targeted Tanzania, the first of five countries to complete a full THRIVE cycle in 2020. THRIVE Tanzania was a $12 million program directly targeting 9,000 smallholder farmer households in three area programs: Magugu and Garowa in the Manyara region and Kisongo in the Arusha region.
The overarching goal of THRIVE is to equip families to lift themselves out of poverty through building improved and resilient livelihoods that enable significantly better incomes, food security, and child well-being. The study revealed that THRIVE delivered on promises and drove significant impact across all key measures.