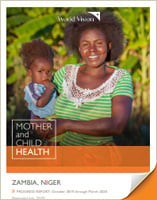 Progress Report: Fiscal Year 2020 (October 1, 2019 to March 31, 2020)

Your support is helping World Vision put a stop to the needless deaths of pregnant women, newborns, and young children in Zambia's Luwingu district,
and soon, we will expand into Niger's Dosso and Maradi regions.
896,017 women and young children have gained access to maternal and child
health and nutrition services, which includes 475,269 children younger than 5 since fiscal year 2016. So far in FY20, 2,511 women and young children benefited from your support, 503 of whom were under 5.