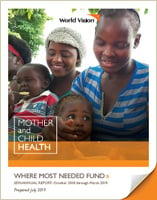 Progress Report: Fiscal Year 2019 (October 1, 2018 to March 31, 2019)

Our Mother and Child Health projects are bringing true change and exciting results. This wouldn't be happening without your faithful support. World Vision joins thousands of families in thanking you.
826,788 women and young children were provided with access to maternal and child health and nutrition services since the project began in FY16. This includes 255,289 in the first half of FY19, 176,643 of whom are children younger than 5.