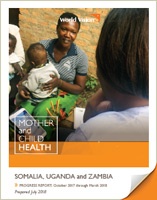 Progress Report: Fiscal Year 2018 (October 1, 2017 to March 31, 2018)

Your support of World Vision's mother and child health initiatives has helped bring improved health and well-being to families in Somalia, Uganda, and Zambia. Because of your faithful and generous partnership, pregnant and nursing women and young children are being cured of malnutrition and learning how to find and prepare healthy, nutritious food.
253,493 women and young children were provided with access to maternal and child health and nutrition services, which included 167,987 children younger than 5 during fiscal year 2018. Since these projects began in FY16, 582,162 women and young children have benefited from your support.