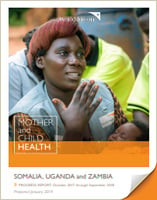 Progress Report: Fiscal Year 2018 (October 1, 2017 to September 30, 2018)

Thanks to your faithful support of mother and child health projects in Somalia, Uganda, and Zambia, the promise of Isaiah 65:20 is being borne out with encouraging frequency: Never again will there be … an infant who lives but a few days.
450,400 women and young children were provided with access to maternal and child health and nutrition services, which included 259,981 children younger than 5 during FY18. Since these projects began in FY16, 749,018 women and young children have benefited from your support.