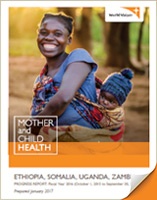 Progress Report: Fiscal Year 2016 (October 1, 2015 to September 30, 2016)
Ethiopia, Somalia, Uganda, Zambia
World Vision joins thousands of children and their families in sharing our gratitude for trained community health workers who are providing the valuable frontline healthcare and priceless knowledge that is critical to mother and child survival.
Women in Ethiopia are receiving treatment for debilitating damage caused by having babies without the aid of trained medical personnel. Children in Uganda are getting growth monitoring and referrals to nutrition programs when needed. Zambian health facility staff and volunteers are learning from U.S. medical service volunteers who are sharing their knowledge and time to improve care in two health facilities.