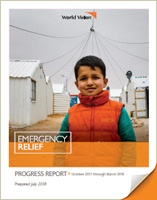 Progress Report: Fiscal Year 2018 (October 1, 2017 to March 31, 2018)

Your support has equipped World Vision to save lives, reduce suffering, and restore dignity in some of the world's hardest places. Thank you for helping us serve children and their families in their greatest hour of need.
2 million people were reached with emergency relief from October 2015 to September 2017, including 1.1 million during the first half of FY18.