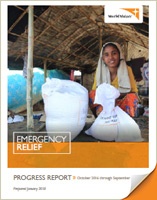 Progress Report: Fiscal Year 2017 (October 2016 to September 2017)

Currently, World Vision donors in the United States are reaching families in 36 countries across the globe with emergency aid. Among them are hurricane survivors in the U.S. and the Caribbean, families displaced by conflict in Syria and Iraq, and communities coping with extreme drought and hunger across East Africa.
Your support is saving lives, restoring dignity, and renewing hope in many of the world's hardest places. Thank you.