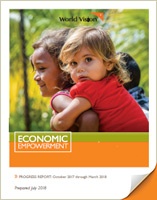 Progress Report: Fiscal Year 2018 (October 1, 2017 to March 31, 2018)

World Vision's THRIVE (Transforming Household Resilence in Vulnerable Environments) program targets rural and predominantly subsistence farming households with dependent children. We are working with parents and caregivers who generally have some skills and assets, including small plots of land, but are living below the national poverty line.
849,845 people were provided with access to economic empowerment activities since the program began in FY16.