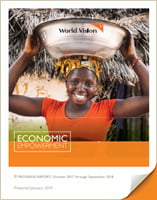 Progress Report: Fiscal Year 2018 (October 1, 2017 to September 30, 2018)

THRIVE (Transforming Household Resilience in Vulnerable Environments) is one of the building blocks of World Vision's global livelihoods strategy and economic empowerment work. Our work addresses the underlying causes of poverty: food insecurity, vulnerability to climatic events, and lack of access to information, markets, and financial services. Our goal is to lift the most vulnerable families out of the intergenerational cycle of poverty.
1 million people were provided with access to economic empowerment activities since the programs began in FY16, with 351,898 in FY18.