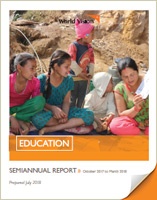 Progress Report: Fiscal Year 2018 (October 1, 2017 to March 31, 2018)

Around the world, many vulnerable children are denied access to a quality education, where they can learn and grow. We are grateful for your support in changing this. You are helping to make a difference.
10,574 people, including 3,405 children, have benefited from our Education projects since they began in October 2016. In FY18, 4,553 people benefited, including 1,610 children.