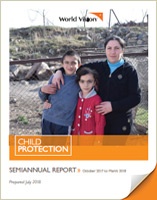 Progress Report: Fiscal Year 2018 (October 1, 2017 to March 31, 2018)

Thank you for your support of our Child Protection projects. Through your partnership, children around the world who are vulnerable to violence are being protected from grave abuse and exploitation.
1,270,558 people, including 656,915 children, have benefited from our Child Protection projects since they began. These numbers include beneficiaries from our Honduras project, which was not summarized in this report, and other Child Protection projects that have already closed. In FY18, 149,649 people benefited.