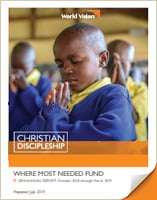 Progress Report: Fiscal Year 2019 (October 1, 2018 to March 31, 2019)

The Christian Discipleship Program's training is having a transformative effect on how churches, schools, and communities create loving environments for children and youth to grow and thrive.
2,053,929 people benefited from ministry activities since October 2015, including 196,581 during the first half of FY19. This includes parents/caregivers, children, and community members benefiting directly and indirectly.