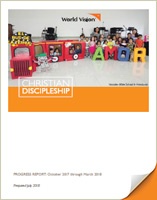 Progress Report: Fiscal Year 2018 (October 1, 2017 to March 31, 2018)

Although each of our project countries is very different, the theme we hear from our field offices is the same—the Christian Discipleship Signature Initiative is encouraging the voices of children to become stronger in their faith and more confident in their identity in Christ.
1,099,050 people benefited from ministry activities since October 2015, including 451,765 during the first half of FY18. This includes parents/caregivers, children, and community members benefiting directly and indirectly.