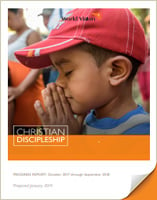 Progress Report: Fiscal Year 2018 (October 1, 2017 to September 30, 2018)

Your partnership is enabling World Vision to have a mighty impact for God's Kingdom as children and youth grow in their Christian faith. Thank you for your faithful prayers and commitment.
1,857,348 people benefited from ministry activities since October 2015, including 1,210,063 during fiscal year 2018. This includes parents/caregivers, children, and community members benefiting directly and indirectly.