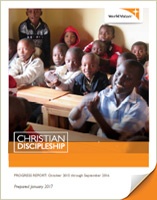 Progress Report: Fiscal Year 2016 (October 1, 2015 to September 30, 2016)

We are excited to announce the launch of three new Christian Discipleship projects in fiscal year 2017. These include the Philippines, Central America (El Salvador and Honduras), and Ethiopia.
We are humbled and grateful for your faithful commitment to helping local churches in their ministry and ensuring that children and youth have abundant opportunities to learn about and experience God's love. Without your prayers and support, none of this would be possible. Thank you.