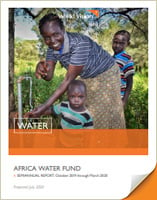 Progress Report: Fiscal Year 2020 (October 1, 2019 to March 31, 2020)

Thank you for partnering in ministry with World Vision to provide water, sanitation, and hygiene (WASH) to vulnerable children living in Africa. With your support, as of March 31, 2020, World Vision's Africa WASH Program has reached nearly 12 million people with clean water against a target of 12.9 million by the end of 2020.
11.5 million people have been provided with access to clean drinking water since October 2015, including 710,966 people during the first half of FY20.