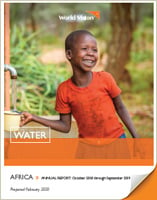 Progress Report: Fiscal Year 2019 (October 1, 2018 to March 31, 2019)

Thank you for providing WASH for vulnerable children in Africa. Together, we are transforming millions of lives. In FY19 alone, the World Vision Africa WASH Program exceeded its annual targets while increasing efforts to achieve a higher standard of programming quality.
10.76 million people have been provided with access to clean drinking water since October 2015, including 2.35 million in FY19.