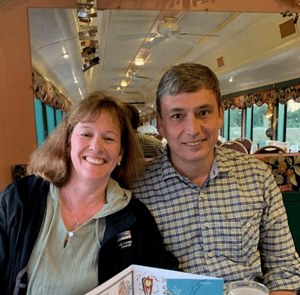 Cyndi and Mark Bluhm are members of World Vision's National Leadership Council. This is their story.
Mark Bluhm gave his wife, Cyndi, one of the best gifts she's ever received. And you might not guess what it was.
Knowing that since childhood his bride has had a heart for those in need, Mark Bluhm gave his wife the "gift" of sponsoring a child in Swaziland, named Ntsetselelo, through World Vision. A few years later, a friend challenged Cyndi to run a half-marathon with Team World Vision to bring clean water to Ntsetselelo's community. And although she doesn't consider herself a runner, Cyndi rose to the challenge! When Mark "nudged" many of his executive friends to support the run, the couple raised over $6,000 for water in Mhlosheni, Swaziland.